Sight-Seeing in Stockholm & Sea Battle Adventures
As I sit in my room listening to Christmas music (I know it's early, but I really can't resist), I am reminded that I have less than a month left here in Sweden! It is unbelievable how fast my semester abroad has gone by. However, it feels like the people I have met here I have known for much longer than only three months because they are my family away from home. It will definitely be sad to leave everyone at the end of December, but I am also looking forward to spending a (hopefully) white Christmas with my family back in Ontario.
It has been a while since I have updated you all with what is happening over here, but it's been a busy few weeks. I haven't gotten a break between classes, as I finish one class, then start the next one three days later each term. Early on next week I have my last final exam here in Sweden, and then I'll have a bit more spare time to do other activities (and more blogging time!).
Aside from studying and hanging around Vallgatan residence with my friends, I have luckily found some time to go explore elsewhere. Last weekend I traveled with nine friends from six different countries to Sweden's capital, Stockholm. We decided to surprise a friend for his birthday by taking him on a trip there (even though he quickly figured out where we were going). We left early Saturday morning by train, and when we arrived I was excited to see so many Christmas decorations across the city! Stockholm is a busy city with so much to see.
We dropped all of our stuff off at the hostel, then decided to explore the city. After walking around for a short time, it was already getting dark because the daylight does not last very long in Sweden. At about 4:00 pm the sun set and it felt much later at night than it really was! However, Stockholm is so beautiful at night, as there are so many lights scattered across the city. We also found some relatively hidden walkways that were just off the main walking paths.
Later in the evening we decided to check out the Stockholm nightlife. It was definitely fun to get all dressed up nicely. We went out for several hours before crashing for a long next day. The following afternoon we decided to take a trip to the Vasa museum. I am not usually a huge history museum fan, as I prefer the city's architecture and design, but this museum was really interesting. It holds a large boat that had sunk several hundred years ago. It was recovered and put back together after being shattered into many pieces. It was neat to see up close because it was so large and detailed. The museum also held old clothing from the ship, and had some skeletons and other items preserved as well.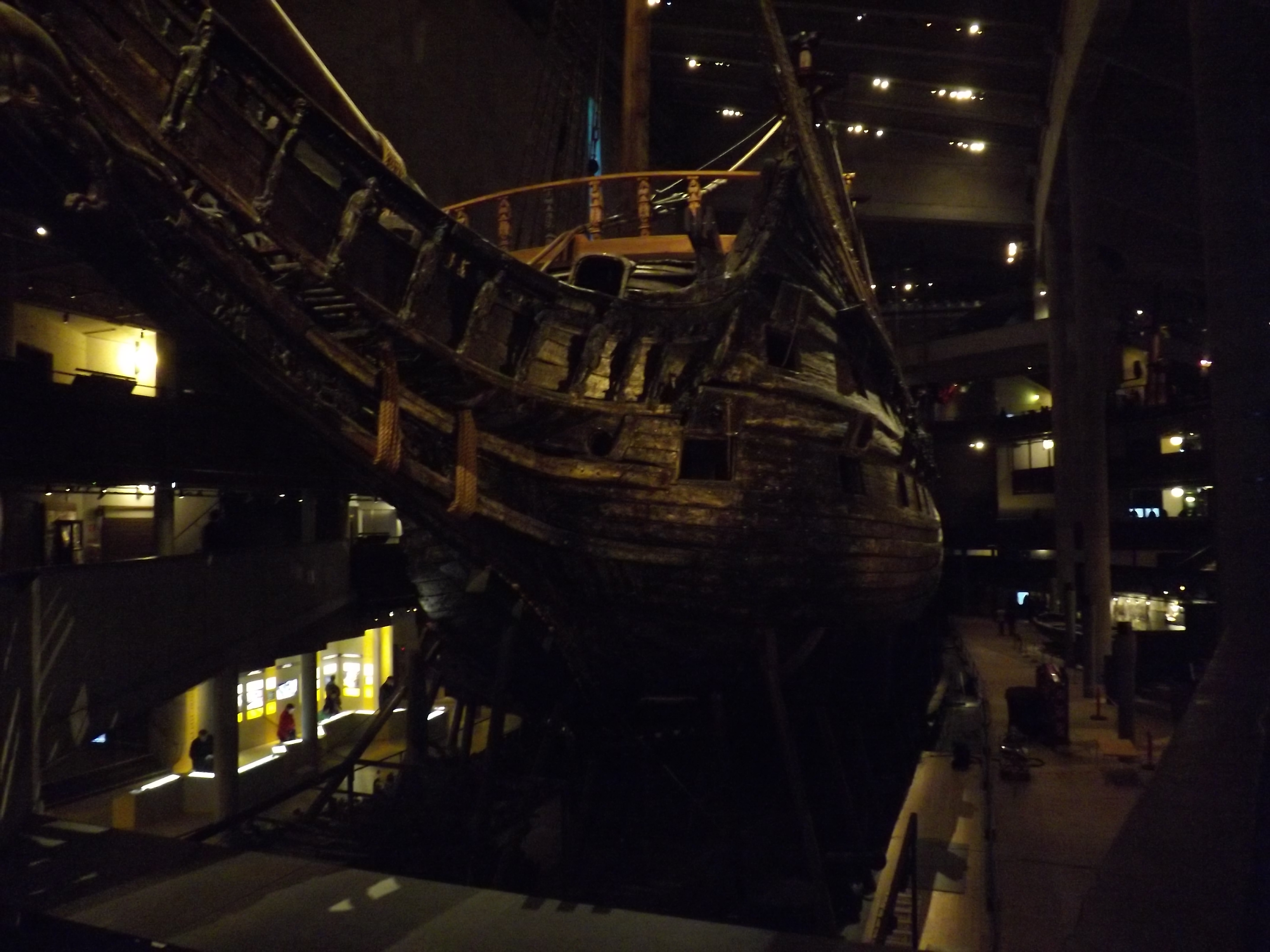 After our trip to the museum we explored more of the city. We walked through the central area before deciding to have a fika at Espresso House, which is a chain coffeehouse that had some seriously delicious chocolate muffins and lattes. Sweden has the best coffee, but I have started drinking about triple the amount I drink back home. I'll be sad to leave so much delectable coffee and kanelbullar (cinnamon buns) behind. It's starting to become a tradition to take a picture of my coffee treat every time I am in a new coffee shop, and I couldn't resist snapping a picture of this Christmas theme latte.
We didn't stay out as late this time because we became even more tired earlier due to the early setting sun. We walked around the city a bit longer, but then headed back to our hostel for another group dinner, which was a nice touch to the weekend away. On our way back home we walked by the shops and the Christmas lights dangling from the roof of the walkway were so pretty.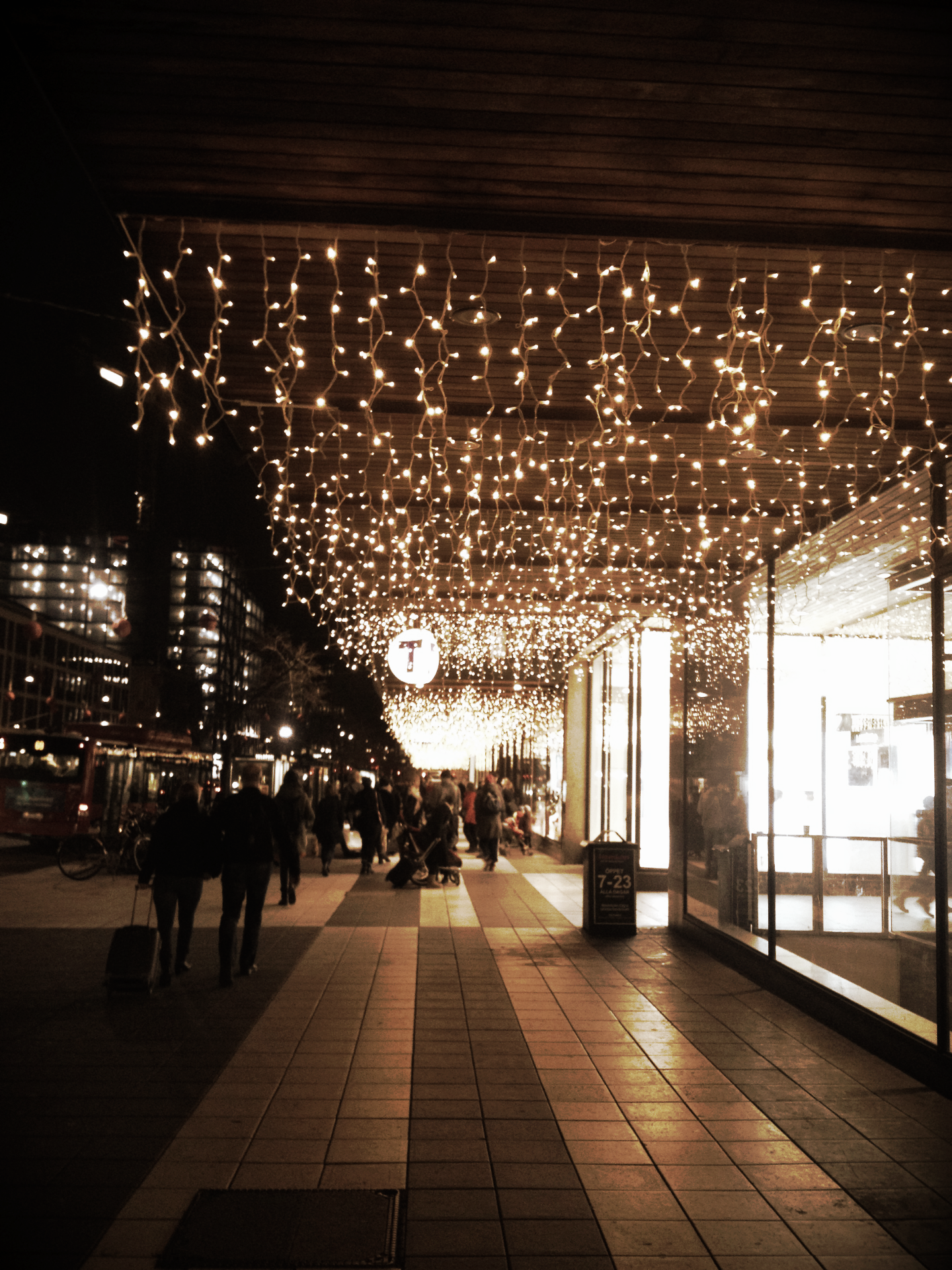 On Monday morning, half of us headed to a trip hosted by our university called the "Sea Battle," where we spent three days on a cruise ship across the Baltic Sea to Tallinn, Estonia, and then back to Stockholm.
Now, I was really looking forward to this trip because I wanted to get the chance to see Estonia. However, I was not looking forward to spending so much time on a boat and sleeping through the rocking motion. While I didn't end up seasick, it was definitely strange trying to walk or dance, and then stumbling every time a big enough wave passed by.
It was definitely a lot of fun hanging out with all of my friends though, and meeting several new people as well. There was always a new event happening, and there was a really cool dance show with vibrant costumes that I really enjoyed. The first night was a buffet, which was the best because I love to eat! On the second night, I went with a few friends to a restaurant on the ship and had mussels and a cappuccino, so that wasn't too bad either.
Onto the best part of the trip though...Estonia! We arrived at the Tallinn port around 9:00 am and had several hours to explore the city. Tallinn is such a charming place, and the architecture is so neat. There are medieval themed places you can visit that are far from modern inside, and one of our friends even got to try on knight armour in the middle of the streets. We walked through the cobblestone streets and there were so many colourful buildings, adorable shops, and even markets built into the stone walls.
And the coffee pictures continue…
I highly recommend Tallinn as somewhere to visit if you want to travel to a place in Europe that is truly unique. It is a city with vibrant architecture and incredible views. I hope to return to Estonia in the future, especially to visit my friend Gloria who I have met while studying at Linnaeus. Well, that is all I have to share for now, but I will try to keep you more informed once I finish my exam this upcoming Monday. Now I really must get some sleep before my seminar in the morning, so thank you all for catching up with me and enjoy the rest of your week!
Until next time,
Kaitlyn xo